"A Change is Gonna Come," a New Year's devotional by Marci McGowan
"A Change is Gonna Come,"  from an 1980s song by The Neville Brothers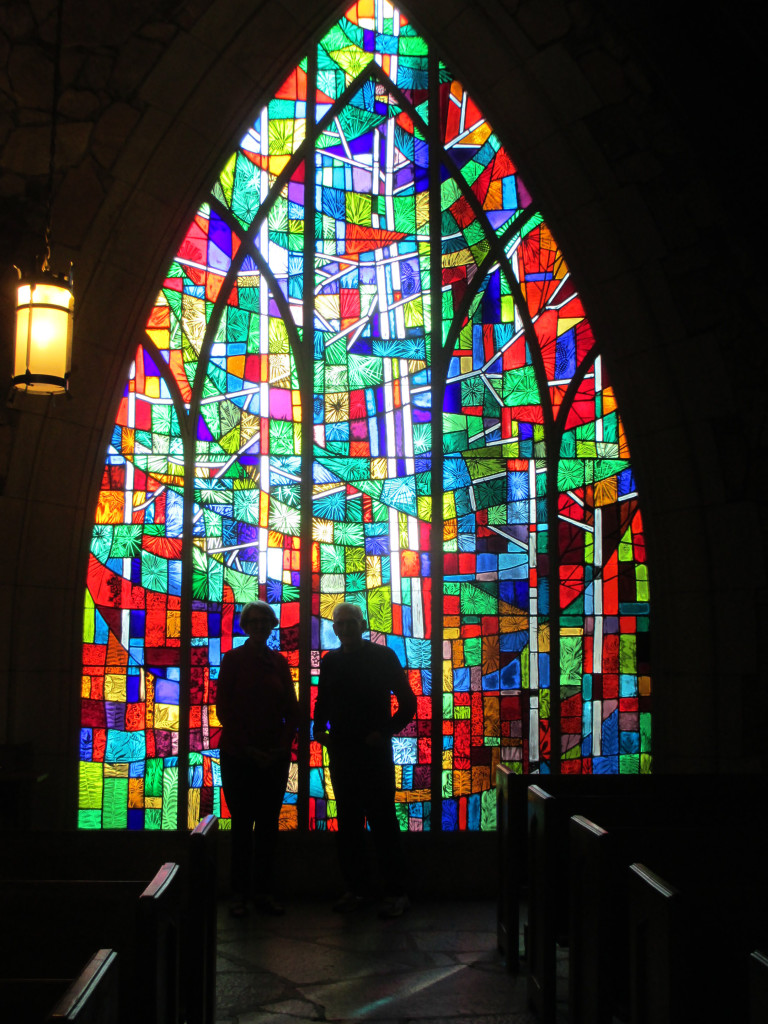 From the diary of my maternal grandmother, Catherine Clark Voss:
[Life] Is a jigsaw puzzle. Each piece perfectly cut. Some parts have the jagged edges of pain. Some the curses of frustration. Some the confusing points of hate. Some the simple lives of love.  The synonyms of puzzle pieces and words are endless; each part is a day of living, a human labor of love, to make a complete picture. This complete picture is to be presented before the Divine Cutter of all patterns.
And from 1 Corinthians 12: 27-­31, The Message Bible:
The way God designed our bodies is a model for understanding our lives together as a church: every part dependent on every other part, the parts we mention and the parts we don't, the parts we see and the parts we don't. If one part hurts, every other part is involved in the hurt, and in the healing. If one part flourishes, every other part enters into the exuberance.

You are Christ's body—that's who you are! You must never forget this. Only as you accept your part of that body does your "part" mean anything. You're familiar with some of the parts that God has formed in his church, which is his "body":
apostles
prophets
teachers
miracle workers
healers
helpers
organizers
those who pray in tongues.

But it's obvious by now, isn't it, that Christ's church is a complete Body and not a gigantic, unidimensional Part? It's not all Apostle, not all Prophet, not all Miracle Worker, not all Healer, not all Prayer in Tongues, not all Interpreter of Tongues. And yet some of you keep competing for so ­called "important" parts.
The only constants in life seem to me to be death, taxes, and changes.  Over this Christmas season I have been dealing with some of each.  It is funny how new experiences have a way of also dredging up memories of times past.  The changes of today took me back to another winter, the middle of my senior year in high school when my father's place of work closed, and we suddenly had to move.  I think I was in shock, not wanting to move, not knowing how to say goodbye, and then in a new school not knowing how to make new friends when everyone else had known each other seemingly forever.  The whole experience taught me some hard lessons about friendship.
I thought about one particular good friend I had at the Catholic private school I attended through eighth grade; we stayed friends through the next year, but after that things got a bit confusing, and the friendship fizzled out. Nobody's fault, but I learned again about what it takes to be and to keep a friendship strong. Years later, my husband is my best friend and it is something that I do not take lightly.  Relationships are not to be taken lightly because as change comes, it helps to be thoughtful of how we and each of our roles is changing.
Over the Christmas holidays my family gathered in Pine Mountain, Georgia, the home of a retreat and resort area known as Callaway Gardens.  The two main areas we went to see, however, were the small shop that my younger sister owns there and a new retirement community being built nearby.  The retirement community has options of independent living and assisted living, and my parents told us they are planning to move there.  Right now it is still under construction, so we just got to see the outside.
My parents said the people get around there by way of a golf cart vehicle.  The day we visited it was raining, so we joked with them that they'd need curtains for their golf cart to keep the rain out, and more seats in the back for us all--well, at least a place for their pet dog--to ride.  I appreciated that we were having something fun and new to focus on, when really none of us were wanting to dwell upon the reality of the change of them getting older, less capable, and a day coming when each of them would no longer be with us.
Since we returned home from our trip my husband and I had our worries in the house tax bill coming due January 2016.  Money is very tight at our house and my husband kept wondering how we'd be able to pay.  We ended up using some of the Christmas money to help cover the cost.  Sometimes I think we can worry too much and not have faith it will work out.
My parents thanked my sister in advance for helping them with the care they will be needing in the future. They will be near my sister and her three children, who this year are undergoing their own big changes.  This spring my sister's oldest daughter will be finishing her second year in college and her youngest child finishing his second year of high school.
Changes, whether or not we wish them to happen in our lives, are gonna come, regardless. That is for certain.  It helps if we can anticipate and plan accordingly as my parents have done in their lives.  I realize that through their actions my parents are continuing to teach us all how to look ahead and gracefully manage difficult changes that will happen later in our lives.  I thank them for doing so.  And I thank them for their love story that continues throughout the ups and downs of their lives together.
The photo shown here is one that I took this vacation of my parents standing in front of a stained glass window.  As I looked at it, my heart filled with the sense of this devotion.  I reflected that just as it takes variations of colors and shapes of pieces in making a stained glass window to be whole, so also it takes an assortment of shades and shapes of experiences to create the whole tapestry that each of our lives becomes.
We may not be able to understand some of the things that are going on now. We are not supposed to. All good things happen in God's own time. We just have to trust the Master Planner.
Thanks be to God.
May you have a blessed and happy life in the year 2016! The future marches on.
Prayer:  Gracious God, thank you for the gift of life, and the changes and people that are part of each of our lives.   Please give us the strength and the grace to keep moving ahead, learning and working with those around us in ways that make will make something beautiful in our time.  In Jesus' name we pray, Amen
Views: 634,  Words: 1,135