Devotion for June 29, 2011 – True Worship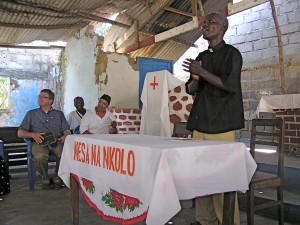 Today's Scripture Reading
Isaiah 61:1
The Year of the Lord's Favor
61:1 The Spirit of the Lord God is upon me,
because the Lord has anointed me
to bring good news to the poor;
he has sent me to bind up the brokenhearted,
to proclaim liberty to the captives,
and the opening of the prison to those who are bound;
John 4:23-24
23 But the hour is coming, and is now here, when the true worshipers will worship the Father in spirit and truth, for the Father is seeking such people to worship him. 24 God is spirit, and those who worship him must worship in spirit and truth."
Scripture taken from The Holy Bible, English Standard Version. Copyright ©2001 by 
Crossway Bibles
, a publishing ministry of Good News Publishers. Used by permission. All rights reserved. Text provided by the 
Crossway Bibles Web Service
.
Today's Devotion
What does it mean to worship God in spirit and truth?  There are those who believe that worship only takes place inside a church, and their vision of "church" is usually a large building, with many beautiful decorations and images that help point the worshipper to God.
As I visited many churches in Congo, I do not think it was a coincidence that the most spirit-filled worship was often found in the humblest settings.  It is very easy for material things to distract us from the very God we have come to worship.  Isaiah reminds us that the spirit of the Lord is on those who preach the good news to the poor, the broken-hearted, and the captives.  When we cast aside everything else, our hearts are opened to receive the gifts of that spirit.
Sometimes it's hard to stop and listen as we enter worship.  So much is happening; there are so many people around us.  In my limited understanding, I wonder how God separates out the noise to hear the heartfelt praise that is offered up by the worshippers.
In some traditions, worship is a silent affair.  In others, it involves the whole body in dance and singing - impossible to imagine a quiet service!  True worship can be found in many traditions; the believer simply comes before God and offers whatever is most central to her or his life.
Sometimes it is silence, sometimes joy, sometimes pain, sometimes gratitude, and yes, sometimes only fatigue.  The wonder of worship is that God accepts all that is offered in a spirit of worship, knowing that the true worshipper offers what he or she has to give.
Prayer:
Holy God, this day we worship you, wherever we are, in whatever state of mind we find ourselves.  We know that in Your magnificent understanding you accept the gifts of true worship, however they come to you.  For this we give you praise, now and forever.   Amen.
---
Today's devotion was shared by
Susan McNeely