Honor Dogs in Christ, by Marci McGowan
Be devoted to one another in love. Honor one another above yourselves. -Romans 12:10 (New International Version)
It was a Friday afternoon after work. There had been a rapid response training session going on at the retreat center. Part way through the housekeeping, I saw a retriever puppy with a vest. The vest means that the dog is working. I asked, "May I pet?" It was ok. The name of the dog's vest was "Amazing Gracie." I petted her and continued to finish the housekeeping.
When I got off work for the day, out in the parking lot I saw another retriever dog wearing the same type of green vest. I went over to the people and asked if I may pet. They said I could. I bent over to pet her. I found out her name was "Mrs. Brown." During that time I was petting her, then put my head directly on her head, I felt a Godly presence surrounding me in that parking lot. She was showing me pure unconditional love. I kissed her on the nose and found out her handler was on Facebook. It was hard to leave Mrs. Brown. I knew she was there to go through the training. So I went on home, and she and her handlers went on to finish the training.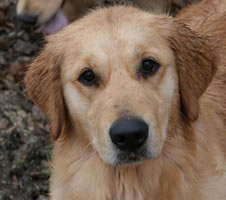 That was the one thing I needed reassurance about at that moment, that God is always with me, no matter what hard times I've been dealing with or going through. The experience with "just a dog" in the parking lot at that moment seemed almost holy to me. God is always present with us in our lives, whatever and where ever we may be. We just usually have to ask and then wait for God's unending answer of Pure Love. This love may also come to us in a form that we are not used to experiencing. God's Love is always there, we just need to be open to look, learn, and live! During that supposedly very ordinary moment in the parking lot at work, Mrs. Brown, Honor Dog in Christ, had been an instrument of God's faithfulness and love.
More about he Honor Therapy dogs at: www.HonorTherapyDogs.org
Views: 627,  Words: 372