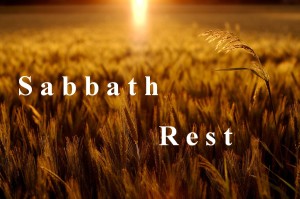 Leviticus 25:1-4a
The Lord spoke to Moses on Mount Sinai, saying:  Speak to the people of Israel and say to them: When you enter the land that I am giving you, the land shall observe a sabbath for the Lord. Six years you shall sow your field, and six years you shall prune your vineyard, and gather in their yield; but in the seventh year there shall be a sabbath of complete rest for the land."
Nurturing God,
    who rested after your great work of creation;
Why do we to think we don't need to halt our labors?
Why do we forget your land needs to be refreshed?
Help us remember to keep the Sabbath
for ourselves, and for your creation.
Remind us to keep the Sabbath the way you made it – holy.
In Jesus name,
Amen.