Our DisciplesNet sheep remind us both of our Shepherd and the other sheep of God's pasture.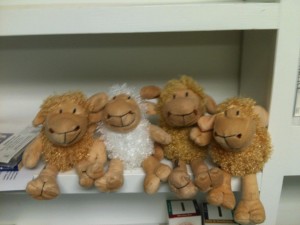 These are our original four sheep. They came to help out with a Children's sermon.
Our sheep started inviting all their friends to DisciplesNet Church... they are good evangelists.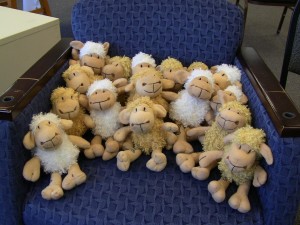 Soon we had sheep all over the place. They like to sit and listen as we preach, pray, and share in the Table together. In addition to being a pretty good audience, they remind our preachers who may be preaching to an audience they can't see--on the other side of the internet--that the sheep of God's pasture are out there, and God doesn't want even a single one to be lost.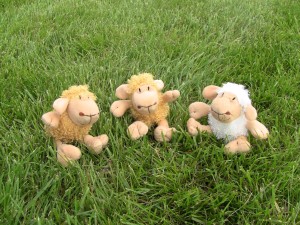 Here Stephen, Methuselah, and Emma act out their favorite Bible verse, Psalm 23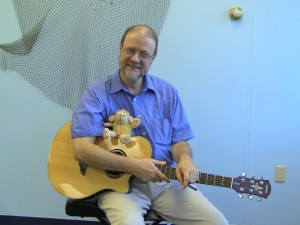 Methuselah helps his good friend Dean with DIsciplesNet music. Here Dean is playing Methuselah's favorite, "The Ninety and Nine"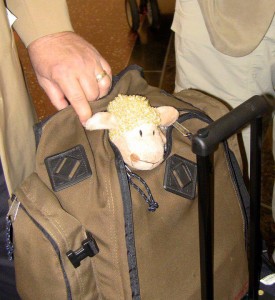 Brebis (French for "sheep"; we pronounce (bre-BEE)) at the Indianapolis International Airport, preparing to depart with Bob Shaw and his wife Susan to visit ministry partners in the Democratic Republic of Congo. Brebis was an ambassador of goodwill on the trip, and made many friends, especially among the children.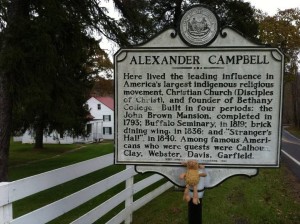 Brebis at the home of Alexander Campbell in Bethany, West Virginia. More of the green pastures. Brebis was thrilled to hear that Campbell took to raising sheep when the hilly, rocky soil turned out to make farming difficult.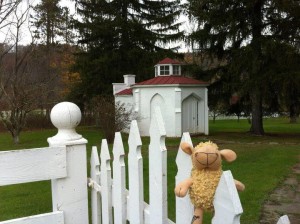 Brebis poses in front of Alexander Campbell's study. Campbell designed this with windows only at the top, so his light would have to come "from above." Brebis thinks this would be a nice way to study.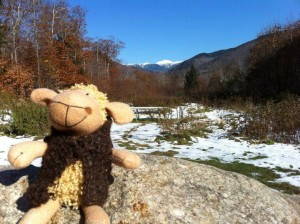 Brebis has a new coat, and it is just right for Mt. Washington, said to be one of the windiest places on earth. Brebis thinks that God's creation is more beautiful than words can tell.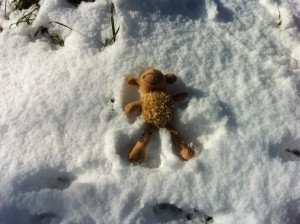 Brebis learns how to make snow angels in Boston. One of the songs he likes is, "All night, all day, angels watching over me, my Lord."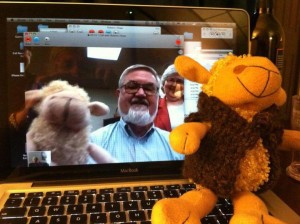 Brebis is attending church here through Skype. He works for a church on the internet highway with walls as wide as the world, doors that are always open, and always room at the table. Sharing and connecting are just the thing that brings a smile to Brebis' face. That is his friend Goldie on the other side of the screen (and country), with Rev. Bob Shaw and Betty Ann Duke looking on.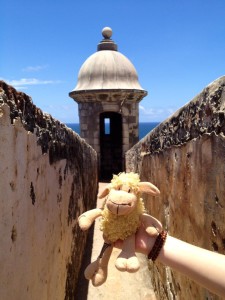 Bo, short for Mephibosheth (as in 2 Samuel 4) arrives in beautiful Puerto Rico and sends his first picture home to his friends.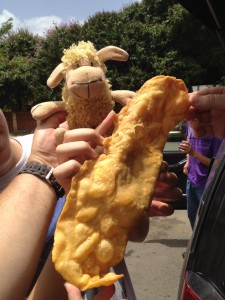 Bo learns about the tasty treat called Pastelillos in Puerto Rico. He thinks that sharing your bread or your pastelillos with friends sure feels like a God-thing.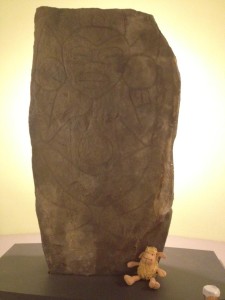 Bo with the Caguana Native Indian woman in Puetro Rico. She looks like someone he would like to have known.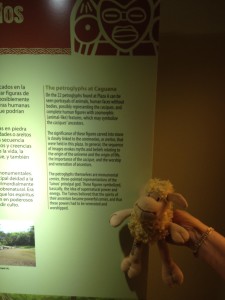 Bo likes museums and learning cool things.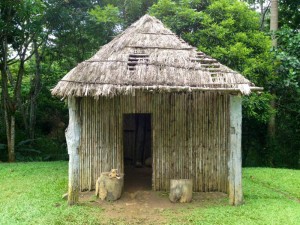 Bo at Bohio, loving that where ever he travels he can usually find something in common.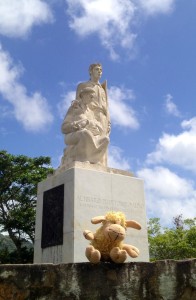 Bo, short for Mephibosheth, poses before JIbaro monument at Cayey, Puerto Rico. He likes the idea of working in unity to help each other out, of being family.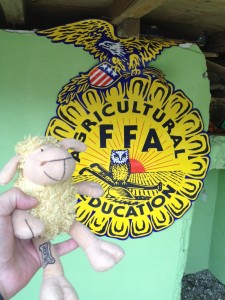 Bo gets excited learning about agriculture.  But his most favorite time of year is the harvest, and especially when he and the other disciplesheep get to sing "Bringing in the Sheaves.....(or did someone say sheeps?)"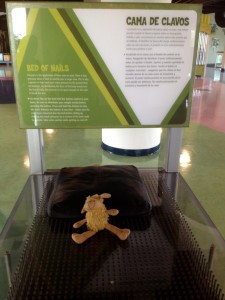 Yipes, a bed of nails! In the children's museum in Puerto Rico, Bo has some fun. Sometimes things are not as bad as they at first seem.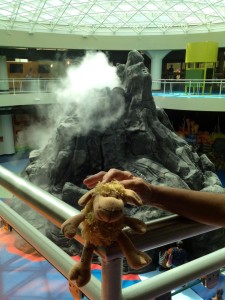 Bo is glad that he doesn't have to get to close to this volcano.....glad that following the Good Shepherd keeps him out of all kinds of hot spots.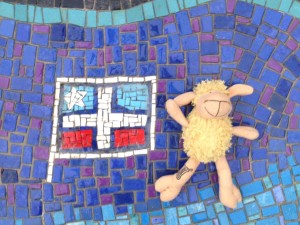 Bo got a little tired. Liked the cool colors of the cool waters here.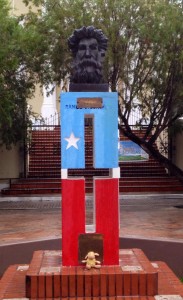 As Bo poses beneath this famous historical monument in Lares Town, Puerto Rico, he feels pretty small.. But gets to thinking of the mustard seed, and those with faith even that small can do GREAT things.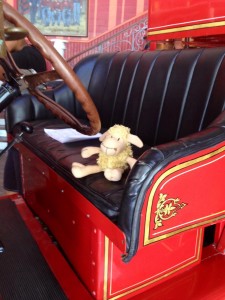 Bo in Puerto Rico at Ponce City, in the fire-fighter's seat. He remembers all the ways the Good Shepherd works to rescue ones in danger and go with them through their tough times.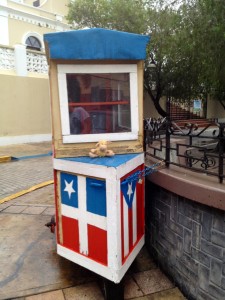 Bo at an ice cone car in Puerto Rico, where ice cones are really famous at helping people cool off on a hot day. Ice cones are a good thing, but so are the cool waters that the shepherd leads beside.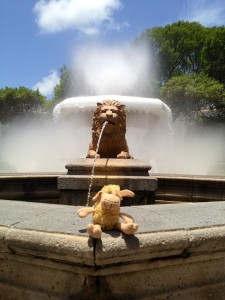 Bo loves the idea of the lion and the lamb someday being able to hang out together in peace. In fact, he likes it so much that he doesn't mind that the lion seems to be spitting on him.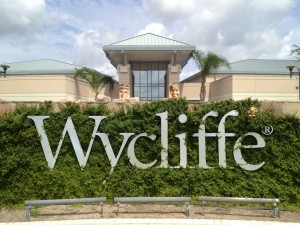 Bo thinks this is a pretty cool place to come learn about the Bible. Can't find him? Remember sheep like green pastures.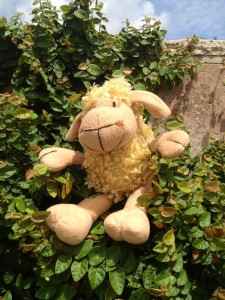 Here I am! Did you see me before? I am Bo, at the Wycliffe Bible translation center in Orlando, Florida.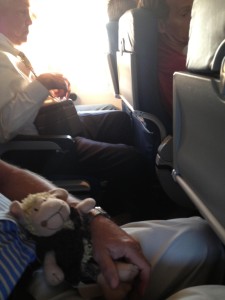 Brebis is an old pro at airplane travel and settles in during his trip to Atlanta. He know that while Jesus said, "Lo, I am with you always," that that Jesus also cares for members of his flock when they are high in the sky...everywhere!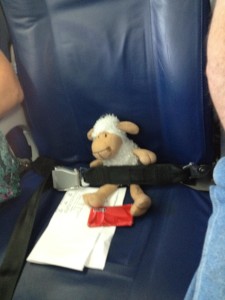 This is Grace's first flight and she looks over appreciatively as Brebis reminds her what God told Joshua: Have I not commanded you? Be strong and courageous. Do not be afraid, do not be discouraged, for the Lord your God will be with you wherever you go." (NIV)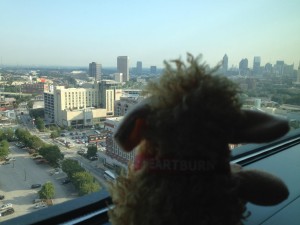 Stephen looks out on Atlanta.....wow, what a big city. Where are the green pastures? Hope people know how to find them.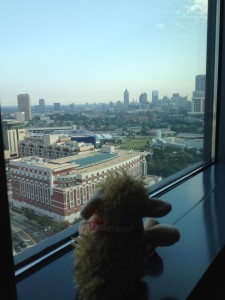 Stephen is amazed at the skyline from his hotel window. He thinks of all the people down there, and Psalm 100: "It is he who made us, we are his people, and the sheep of his pasture..."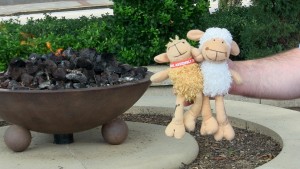 Stephen and Grace pose outside the eternal flame at the Martin Luther King center in Atlanta. They like the plaque on it that says, "The eternal flame symbolizes the continuing effort to realize Dr. King's ideals for the "Beloved Community" which requires lasting personal commitment that cannot weaken when faced with obstacles."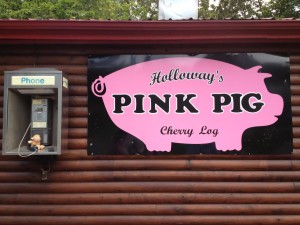 Here Stephen phones home to say that "No, no lamb chops on the menu, I am fine."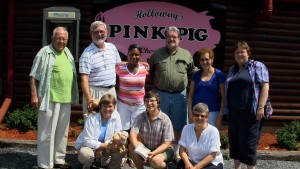 Here some members of the DisciplesNet leadership team, plus colleagues meet after a great meal in Cherry Log, Georgia. Grace, Stephen, and Brebis get in the picture, enjoying fellowship. Grace reflects that It is not good for sheep to be alone. All sure liked the faith stories and hospitality of Rev. Hal Doster, host to the group.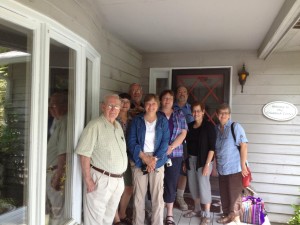 Brebis poses with the group after going to learn more about preaching God's word from one who wrote lots of books on it and was a gifted preacher.   Brebis was listening in the background as Dr. Craddock told about the gift of gratitude, with the video of that here, a tribute after Dr. Craddock passed away.  https://www.youtube.com/watch?v=dbrx9Y1CQkE
Brebis is grateful that Dr. Craddock told and taught so many people about God in his great career.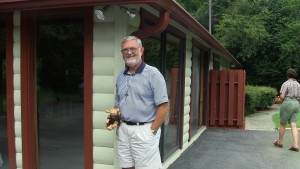 Brebis and his traveling buddy Bob pose in front of "the Pavilion," the birth place of Cherry Log Christian Church. Some of the ideas for starting DisciplesNet church came from here and the days when Revs. Fred Craddock and Dean Phelps worked to launch this new church. Some of the Ideas and lessons learned here, plus sage advice from Cherry Log leaders, inspired DisciplesNet Senior pastor in the launching of DisciplesNet Church.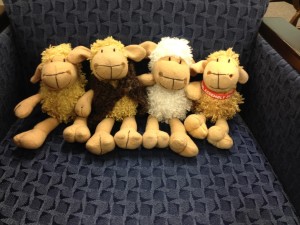 Summer 2012 is nearing an end and our four sheep are back from their travels. L-R: Mephibosheth (Bo), Brebis, Grace, and Stephen.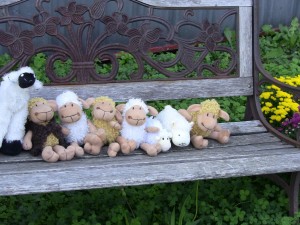 Brebris and 4 other of our DisciplesNet leadersheep went to Southport Equestrian Center in Indianapolis. They were met with great hospitality by more sheep from the equestrian center. Here they were all getting along great, despite all being different while also all being the same in so many ways, just like all of the sheep of God's pasture.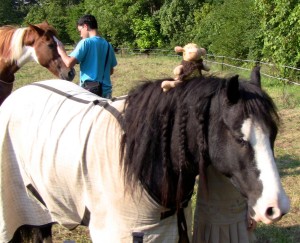 While Brebis seems to be getting the hang of his riding lessons, one of our DisciplesNet interns seems to be a natural at connecting. — at Southport Equestrian Center.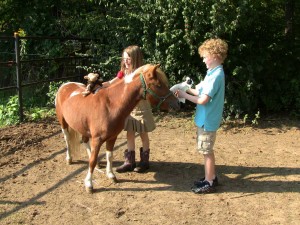 Thanks to Southport Equestrian Center for letting our DisciplesNet Video intern team come out to take photos--And thanks to their two team members shown here for being such great hosts! Often the sheep of God's pasture have to try out new things. Brebis looks a little nervous here, but having cheerful and caring hosts around when you are new and nervous can make all the difference.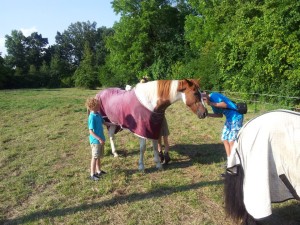 Two of our sheep take a ride with the help of our newest intern and a young friend.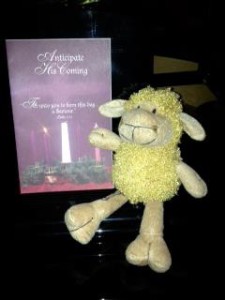 Here Medad poses for Advent in front of a special devotional booklet by DisciplesNet pianist/artist Beverly Heid. Bev's instrumental piano music is special to our DisciplesNetters, specially created from an understanding of bringing hope while struggling with debilitating illness. Bev's music is behind the openings and prayer moments of many of our worship video, and some of our specials.
As Christmas nears this year, Medad is excited about celebrating Christ's birth and getting to sing along while Bev plays his favorite Christmas song, "While Shepherds Watched Their Flocks By Night."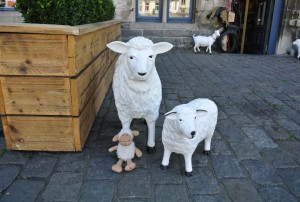 Gracie found some long lost relatives in Ghent Belgium. She is glad to remind them that God loves all, great and small.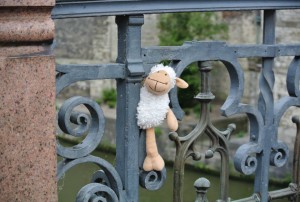 Gracie hanging out on St. Michael's Bridge in Ghent, Belgium.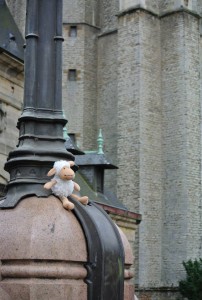 Gracie hanging out on St. Michael's Bridge in Ghent, Belgium.