Prayer for victims of violence, after the church shooting in Charleston, South Carolina, USA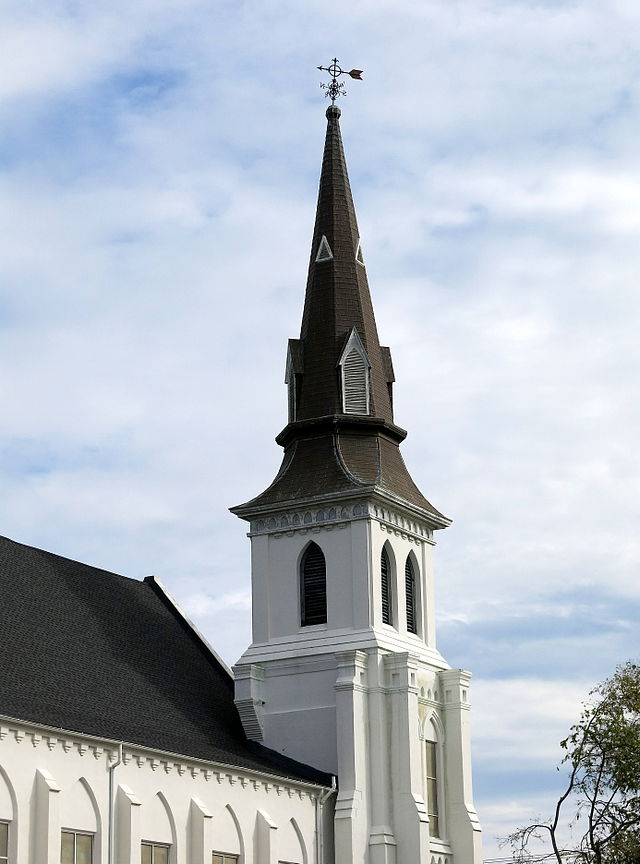 Gracious God, our hearts break as we once again hear of people killed in the sanctity of a house of worship where your servants had gathered to study and pray.
It seems we pray this prayer too often, remembering only 3 months ago lifting prayers in heartache for our Christian brothers and sisters in Lahore, Pakistan, whose churches were targeted by suicide bombers, and  many people killed and injured.  We continue to pray for people around the world who are persecuted, who are murdered for their faith, for their difference to another.
Yet this day we pray especially for the people of Emanuel African Methodist Episcopal Church in Charleston, South Carolina, USA, which had 12 people shot by a gunman Wednesday evening during Bible study, with nine killed.  The story is unfolding that the shooter is a young white man whose actions may have been fueled by a troubled life and racist hatred for black persons.
O God, we pray for those whose faith, race, caste, culture or identity puts them at risk to another's contempt and/or instability.  We pray for all who must live their lives under worry of violence.  We especially pray for the children who go to bed each night fearful that they or a loved one may be the next one killed or harmed at another's hands.
For the people of Charleston Emanuel AME Church and all others touched by this tragic crime, we humbly pray for your healing power, O God.  Indeed, we give thanks for the long, rich history of Emanuel AME Church, and the goodness of countless of your servants who have passed through the doors, and all those who will continue to do so.  We pray for the families of those killed and the others injured in this shooting, and especially cry out in pain at the loss of the gifted pastor-leader among those killed.  We pray for church leaders everywhere as they struggle in this world to best show your people how to love as Jesus loved.
Gracious God, it is horrifying to think that a young man would sit in this house of worship and hear your word even while he was planning his moment to turn his gun upon those offering him hospitality, wisdom and kindness.  Yet even as we pray for some sense-making in this matter, we know that none can justify his awful choice, that nothing on earth can fully restore the lost lives and shattered peace.
So we pray in these moments for your almighty presence and your healing spirit to present in this time of great need.  We pray for your presence to be known to those who are injured as well as those who think of injuring others, for those who sow discord, hatred and strife as well as those who come together to build bridges of peace anchored in your love.
May your love surround and uplift your people now in the days ahead.  As has always seemed to be with your servants persecuted in faith, may their blood and tears inspire us each to do better in our short time on earth.  May this tragedy, as horrible as it is, work for the good of you kingdom, encouraging new growth, new life, new understanding, and new bridges by which peace may someday march mightily across.
Please continue to show us the answers in you word and your ways, even as you show how to take the next steps forward, how to work together to bring about the times that your kingdom may be known on earth as it is in heaven. We pray these things in the name of your son Jesus. Amen.
You may wish to continue in this prayer with this short spiritual song of Lament, sung by Rev. Dr. Twana A. Harris for DisciplesNet, including scripture.  The ocean waves included in this video were recorded at Charleston, South Carolina, which is on the eastern coast of North America in the United States of America. 
Lord, I Just Can't Keep From Crying (You Tube)
Lord, I Just Can't Keep From Crying (Vimeo)