A Lenten Pause, a devotional by Marci McGowan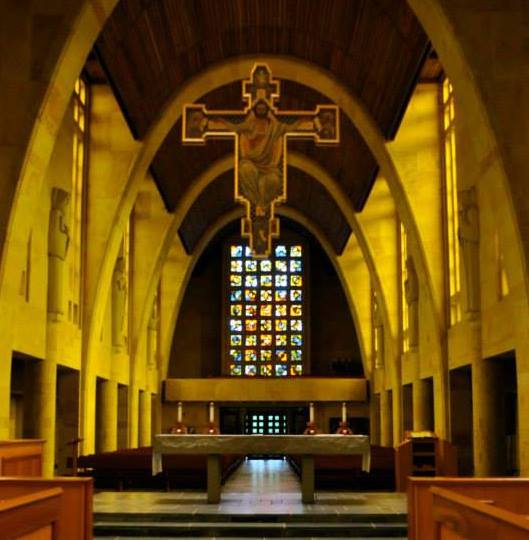 But you, dear friends, carefully build yourselves up in this most holy faith by praying in the Holy Spirit, staying right at the center of God's love, keeping your arms open and outstretched, ready for the mercy of our Master, Jesus Christ.   -Jude 1:20-­21    From The Message Bible
Nestled in the hills of North Alabama is a special place--St. Bernard Monastery.  This is where my uncle, who is a priest and a monk, goes about his work.  In the eyes of the world his work may not seem so glamorous.  But there in the monastery my uncle meets God.
On the inside, the monastery is shaped like an upside-down boat.  Here the monks have a special place to pray and to feel the wind of the Spirit.  The Hebrew word for this is ר֫וּחַ ruach, meaning breath, wind, spirit.  In Greek, the word is "pnuema." πνεῦμα.  The Holy Spirit within each of the monks equips them to go out and do God's work among the people.
We may not have a monastery to pray from within.  Yet if we are willing, we can create our own quiet place to meet God.  Perhaps we could start creating such as space by turning off our cell phones, computers, laptops, and tablets--and listening for God's voice.  As we pray, as we listen for the wind of God, the breath of God can enter.  In such times we, too, can know the quietness of the Holy Spirit that is moving within us, moving within the world.
During the rest of this Lenten Season, how about listening more to the Holy Spirit; and less to what the world is saying?
For the United States and many other countries, 2016 is an election-driven year.  During this time,  remember that we do not have to be controlled, be steered by the clamor and tension which seem to come naturally with the political process.  A better way waits us for dealing with the "wilderness."  Perhaps you could finish out this Lenten season with prayer and pausing for the Holy Spirit to speak in your life.
Where is your separate (holy) place to meet with God?
Who has controls of your ship's rudder?
How are your Lenten practices going by now?
Is there something you would like to add?
Is there something you need to take away?
Happy Lent!
Thanks be to God.
Peace and Prayer on!
-Marci
Lent 2016
Views: 859,  Words: 421