Devotion for December 09, 2011 – Christ Will Come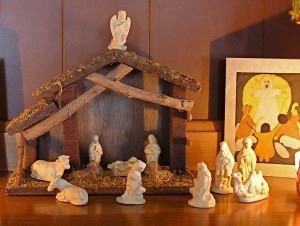 Today's Scripture Reading
Luke 2:6-7
6 And while they were there, the time came for her to give birth. 7 And she gave birth to her firstborn son and wrapped him in swaddling cloths and laid him in a manger, because there was no place for them in the inn.
Scripture taken from The Holy Bible, English Standard Version. Copyright ©2001 by 
Crossway Bibles
, a publishing ministry of Good News Publishers. Used by permission. All rights reserved. Text provided by the 
Crossway Bibles Web Service
.
Today's Devotion
The second meditation I (Pastor Bob) would like to share with you is not really my own work. It is a wonderful Advent meditation written several years ago by my very favorite poet.
Christ will come again this year
Whether we have time or not.
In the midst of the tinsel and bustle
He will be notably absent,
And he will not bother
Those who are too busy.
But surely, among those
Who are too poor to not have time,
In a child's heart,
Taking hours to gaze and wonder,
Or perhaps even among the beasts
Who do not share our fixation with clocks,
The promise will be fulfilled.
Fragile as a hope,
Delicate as a flower,
Humble as a slave,
He will be born
Whether we will or not.
----Susan McNeely
O Thou Giver of the greatest of all gifts, help us to receive and enjoy your Holy Christ with perfect adequacy of appreciation. Amen.
---
Today's devotion was shared by
Robert Shaw
Robert Shaw (Pastor Bob) is an associate pastor of DisciplesNet Church, an elder at Southport Christian Church, Indianapolis, and a Regional Elder for the Indiana Region of the Christian Church (Disciples of Christ).