Devotion for December 08, 2011 – Christmas or "Xmas"?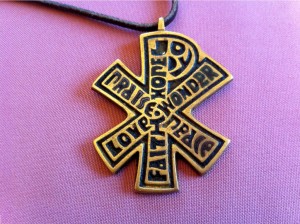 Today's Scripture Reading
Exodus 20:3
3 "You shall have no other gods before me.
Isaiah 9:6 
6 For to us a child is born,
to us a son is given;
and the government shall be upon his shoulder,
and his name shall be called
Wonderful Counselor, Mighty God,
Everlasting Father, Prince of Peace.
Scripture taken from The Holy Bible, English Standard Version. Copyright ©2001 by 
Crossway Bibles
, a publishing ministry of Good News Publishers. Used by permission. All rights reserved. Text provided by the 
Crossway Bibles Web Service
.
Today's Devotion
The first two Sundays of Advent have come and gone.  In many of our church buildings we have had the Hanging of the Greens and sanctuaries are beautiful.  Christmas is coming, and we will all be much too busy. (Let's be honest, the church does its share of adding things to our frantic schedules.) Most of us have concern that the spiritual message and meaning of Christmas is in danger of being lost in the commercialism and the hurry of the season.
For many of us, all that is most disturbing about the hurry and commercialism is symbolized by the use of the abbreviation "Xmas". It is almost as if we don't even have time to write out the name of Christ, in whose honor we have the whole celebration. What a sacrilege!
I believe we have been unfair to the "X". It comes from the Greek letter "Chi" the first letter in the Greek word for Christ. Together with the letter "Rho" it was an important symbol for the first century Christians. It is also the origin of the "Chi Rho" name for the junior high youth group in the Christian Church.
A second thought (for me, at least) is that the "X", just because of the way it is printed, brings to mind the image of the cross, for which Christ came to earth in the first place.
All in all, I find the "X" an appropriate symbol for the name of Christ, if only we stop a moment to give it some thought. Perhaps we need to put the "X" back in "Xmas".
Loving God, it is so hard to be frantically busy, to worry about getting everything done, and at the same time to keep our focus on Jesus and on your love in sending him. We pray for your help during this time of preparation.  In the name of the incarnate Christ. Amen.
---
Today's devotion was shared by
Robert Shaw
Robert Shaw (Pastor Bob) is an associate pastor of DisciplesNet Church, an elder at Southport Christian Church, Indianapolis, and a Regional Elder for the Indiana Region of the Christian Church (Disciples of Christ).