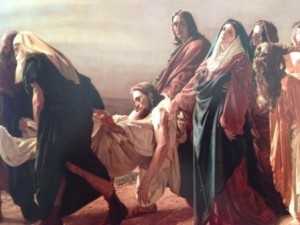 Matthew 27:59-60
So Joseph took the body and wrapped it in a clean linen cloth and laid it in his own new tomb, which he had hewn in the rock. He then rolled a great stone to the door of the tomb and went away.
God of Comfort,
   be with us as we sit by the tomb -
            devastated and wailing from the depths of our being.
We have lost our master,
       the One we loved,
        the One who showed us how to love.
What will we do?
Deliver us
      so that we may again have confidence in you.
                                        Amen.